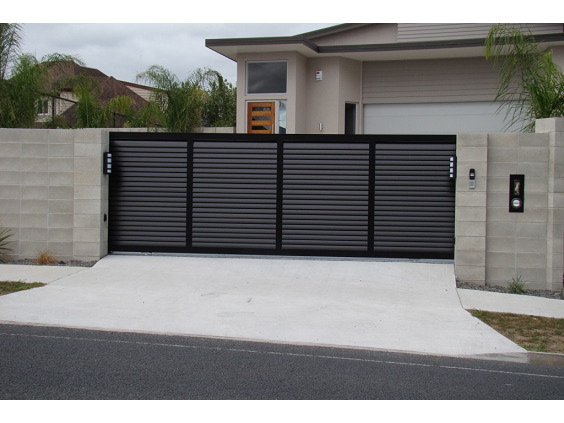 Auckland
Gate Automation LTD in Auckland provide electric fencing, barrier gate automation, pedestrian turnstiles, automatic swing and sliding gates, access control systems, and preventative gate maintenance programs, repairs and upgrades. They are a trusted security gates provider and their customers have amazing things to say about them on Google reviews.
Customer Review –
"The team at Gate Automation have done a great job of upgrading our old automatic gate to make it functional. They are very quick to provide support and tweak things to keep it functioning smoothly. They provide cost-effective solutions and don't try to up-sell. Highly recommend."
Milly Farrand
Website: https://www.ezygate.co.nz/
Phone: 0800 428 300
Email: office@ezygate.co.nz
Address: 6A Hickory Ave, Henderson, Auckland
Hamilton
ARC Automation, Security & Electrical in Hamilton provide automatic gates, motorised doors, access control systems, CCTV security camera systems, and other security solutions across Waikato. They use the DiTEC range of automation equipment for swing or sliding security gates and can customise and integrate automatic security gates with existing access control, home automation and security alarm systems for residences and businesses across Waikato.
Customer Review –
"ARC are extremely responsive to issues that we have. I deal with a lot of trades and they are not as responsive – you've got to push them to get things done. With ARC it's not an issue. They do it in a timely manner, they keep you in touch. I would recommend them for their friendliness, their approachability and their knowledge of systems.
They look after our alarm systems in multiple buildings, our key monitoring centre and our PA and music system throughout the organisation. They have the ability to tackle anything involved in electrical, data and security. Nothing seems to be too big for them."
Roger Griffiths, IT Manager of TRT (Tidd Ross Todd)
Website: https://www.arc.net.nz/security/security-gates/
Phone: 07 849 0901
Email: info@arc.net.nz
Address: 650 Te Rapa Road, Hamilton 3200
Tauranga
AGF Gates and Fences in Tauranga work with a contractor in Mount Manganui in installing and servicing automation systems in electric, solar and remote controlled gates and comes with a 12 month warranty on Labour and a 24 month Product warranty. They have a wide range of gates that range of cost effective options to high-end ones. They also offer fencing solutions and more.
Customer Review –
"Thank you for a wonderful job done on our gates. Andy and Jude are lovely to deal with. They are dedicated to their task, prompt, efficient, and we are very happy with the outcome. We would highly recommend them. Thanks again."
Sheryl Joy
Website: https://www.affordablegates.co.nz/gates/
Phone: (07) 574 3393
Email: sales@agf.co.nz
Address: Unit 2, 6 Tukorako Drive, Mount Maunganui
Wellington
Withington Electrical install and service automatic gates around the Wellington, Wairarapa & Kapiti Coast regions and have over 25 years of experience in the industry.
Their services include automatic gates, barrier arms, rising bollards and intercom systems. They also service and install commercial gates in the Wellington region.
Customer Review –
"Simon did a great job with the automation of our gate – he provided very detailed written instructions on how he would set it up and his work was very tidy. We are very satisfied!"
Alan Grant
Website: https://www.autogate.nz/
Phone: 027 44 88 506
Email: simonw@xtra.co.nz
Address: 6 Kennedy Grove, Stokes Valley, Wellington 5019
Christchurch
Auto Gates Direct in Christchurch offer automated gates and security solutions for homes, offices and commercial facilities in Christchurch. They do custom designs, manufacturing and installation of automatic gate solutions. They supply and install all types of gate openers for domestic swing and sliding gates.
Customer Review –
"Auto Gates Direct installed automatic gates on the west and east sides of TransDiesel's premises in August 2011. The gates operate very well and, on the odd occasion when there has been a malfunction, Auto Gates Direct is prompt to repair. TransDiesel Ltd can confidently recommend Auto Gates Direct as a solid and reliable supplier, and experts in their field."
Brian Bourke
Website: https://autogatesdirect.co.nz/
Phone: 027 424 0600
Email: murray@autogatesdirect.co.nz
Address: 716 Halswell Junction Rd, Hornby, Christchurch 8042